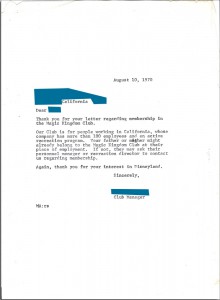 August 10, 1970
Dear x
Thank you for your letter regarding membership in the Magic Kingdom Club.
Our Club is for people working in California, whose company has more than 100 employees and an active recreation program. Your father or mother might already belong to the Magic Kingdom Club at their place of employment. If not, they may ask their personnel manager or recreation director to contact us regarding membership.
Again, thank you for your interest in Disneyland.
Sincerely,
x
Club Manager
MA:rs