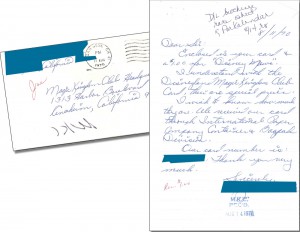 D/L brochure, rate sheet & ParKalendar 8/14 rs
8/11/70
Dear Sir:
Enclosed is your card & a $1.00 for "Disney News".
I understand with the Disneyland Magic Kingdom Club Card, their are special prices.
I wish to know how much they are. We received our card through International Paper Company Container & [illegible] Division.
Our card number is: x. Thank you very much.
Sincerely,
x
Rec. $1.00
[Stamp]
M.K.C.
REC'D
Aug 14, 1970